DROTHISM
Posted by Drothism on Oct 15th, 2008
Many Motorola-made DVRs that cable-TV providers supply are unable to skip ads by jumping ahead 30 seconds. But you can remap the remote control to add this feature. I got it working with a Comcast remote, and it will likely work with your cable company's remote, too.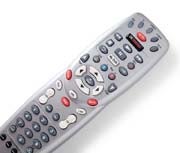 Press the Cable button at the top of the remote. Hold the Setup button until the Cable button flashes twice. Enter 994 on the keypad. The Cable button will flash twice again. Push the Setup button once. Enter 00173. Finally, push the button that you want to use as the 30-second skip; I chose the A button since I don't use it for anything else. The Cable button will flash twice.
To restore the original functionality to that key, follow the first steps described above, but after entering 994, push the remapped key twice. The Cable button will blink twice if your input has been accepted.
One Response
#1

Magpie

Do you think I could find a way to frak this up too?
Leave a reply